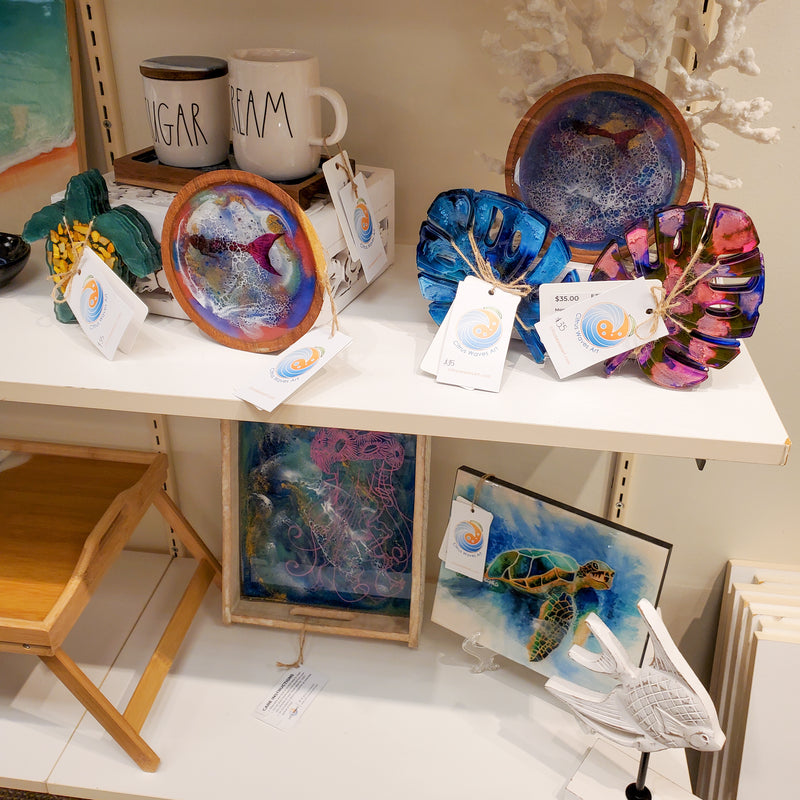 I often get asked about consignment vs wholesale so I thought I'd cover a few things that I've learned along the way, in efforts to help anyone that is considering going down this path. I currently have 8 retail stores that stock my art and each of them have their own unique identity and unique arrangement.
Firstly, I want to say congratulations to you if you have been offered either a consignment or wholesale offer from a retail store! They obviously believe enough in the beauty of your work to want to sell it in their store.
Consignment 
The very first offer I received to stock my art in a brick and mortar was actually a café in Orlando. My dad went in there on my birthday to order lunch and was talking to the one of the owners. The café was recently opened and she was looking to support some local makers in their free space. I ended up following up with her later on about stocking some charcuterie boards and coasters and that's where it all begin.
I now have 8 stores that stock my art and are a mixture of consignment and wholesale arrangements.
Majority of the agreements with these stores are consignment. If you don't have experience with consignment, I'll give a quick little rundown of what that is. Consignment can look slightly different depending on your arrangement with each store but essentially, the percentage of the sale price you keep is more than wholesale, however, you retain liability of the product until it's sold. With consignment, you set the sale price and when the item sells, the store will usually pay you at the end of the month.
Some things that I think are crucial for you to discuss with the store prior to you stocking your products with them…
Work out the split for payment - consignment should range from 70-80% of the sale price, meaning you keep that percentage, and the store keeps 20-30%.

Ask how often they pay and what method

Keep an accurate inventory list with pricing and ask for a sales report at the end of the month to reconcile your sales

Discuss liability if products get stolen or damaged

Discuss restocking – how and when

Shipping – if the store isn't local, you will be required to pay shipping
Wholesale
Three of the eight stores that stock my art are wholesale accounts. When I first started stocking my art in stores, I was very hesitant to do wholesale for a number of reasons. The main reason was digesting the fact that I would lose 50% of the sale price immediately upon delivering the item. That's a hard fact to digest when you're an artist that handmakes everything! So, fast forward to now, I have worked out a method, after much research and debate with myself, that I find suitable for wholesale.
So with wholesale, traditionally the seller gets 50% immediately upon the store ordering and the store will get 50% when the sale is made to the public. The reasoning here is that the store is covering all the overhead costs e.g. the physical space, the liability of the product, etc. I originally had to increase my product pricing because the margins didn't support wholesale pricing, so I increased my pricing to where I felt comfortable with the 50% margin.
More recently, I did done some research on what other makers were doing and how they priced their items available for wholesale. I then realized that they were charging more than 50% of their suggested retail price. For example, a state of Florida Wall Piece retails for $120 (suggested MSRP) but I charge $72 which is actually 60% of the suggested MSRP.
Now this is where wholesale differs slightly from consignment. You have a recommended MSRP for each product, however, the store can charge whatever they want for the product once it's purchased from you. What I found was happening with one store in particular was once I raised my wholesale pricing to 60% cut for me, they increased their sale price to keep 50% of the sale price. Which is totally fine with me, as I am still getting the dollar amount that I feel comfortable with for the amount of work that goes into making each piece of my art.
One of the great things as well about wholesale is that you get paid immediately! Who doesn't love that?!
I hope this article is helpful to those of you who are considering stocking your art in retail stores. Feel free to ask any questions you have in the comments below.
Are you preparing for your first market or craft show? Feeling a little nervous about what you need to bring and how it's all going to work? Don't worry, I've...
Read More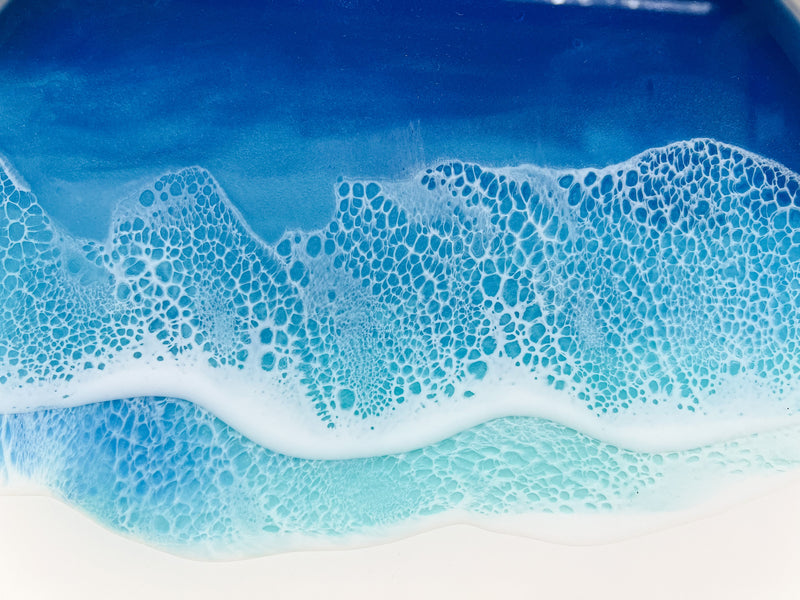 Are you looking to make those frothy ocean waves when working with epoxy? If so, I've got some game changing tips for you! Firstly, I need to start by saying...
Read More