In this video I'll show you how I use the MAS Epoxy Annie's Art Studio Resin Kit (flag resin system) to create my ocean letter keychains using ECOART Solutions Alphabet Letter Mold. To make a complete set of keychains, it takes only 3-4 hours thanks to the fast curing time of MAS Epoxy Flag System with Medium Harder.
I've linked all the products used in this video below if you'd like to have a go at making your own keychains.
Below are a few tips that I've learned in making my own keychains that I think would be helpful in making your own set of keychains.
Prep your materials before you start mixing your resin. Your working time once you've started mixing is only 20 mins. If you don't place your shells in first, your resin will most likely start curing before you even get a chance to pour it.

Once you've poured your resin, move the shells around a bit in the mold to get rid of any bubbles underneath the shells.

Cure time is around 2 hours. This means you can demold and make several sets in one day if you want to.

It's recommended to use alcohol spray to pop bubbles when using silicone molds. If you heat the mold too much, it may cause the silicone to deform or stick to your resin as it cures. I personally go back and forth between using a heat gun and acohol spray depending on the mood I'm in. I've found that as long as you do a quick passover with the heat gun and don't linger, the mold will be fine.
Materials & Tools Used
Resin: MAS Epoxy Annie's Art Studio Resin Kit 
Use code CITRUSWAVESART for 10% + Free Shipping
EcoArt Solutions Alphabet Letter Mold and Silicone Mixing Cups
Use code CITRUSWAVESART for 15% off your purchase
Eye Candy Pigments: Chartruese
Use code CITRUSWAVESART for 10%
Jewelry Pliers to easily attach the metal keychains
Are you preparing for your first market or craft show? Feeling a little nervous about what you need to bring and how it's all going to work? Don't worry, I've...
Read More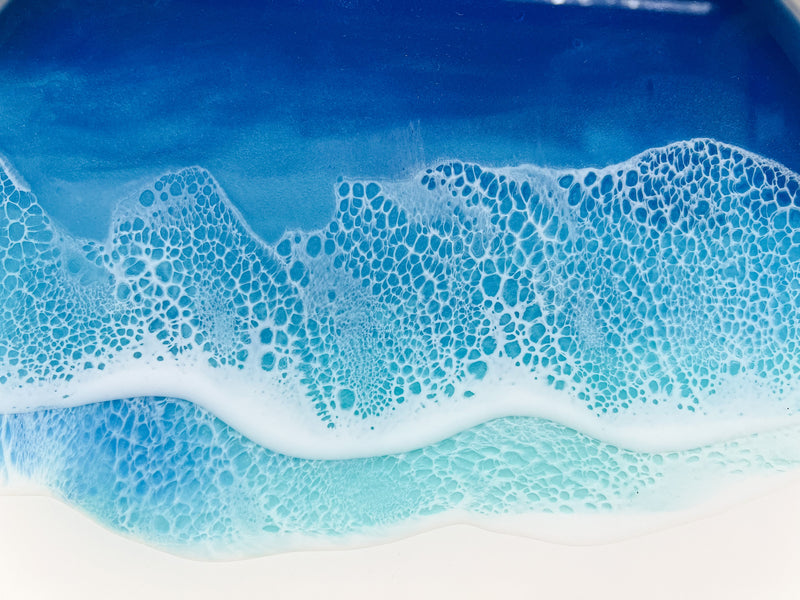 Are you looking to make those frothy ocean waves when working with epoxy? If so, I've got some game changing tips for you! Firstly, I need to start by saying...
Read More